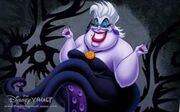 Ursula is the main villain of the 1989 Disney film The Little Mermaid. She appears to be a sea witch as she has different potions which she sells for other's souls. In the parks she appears in all of The Little Mermaid attractions.
Kingdom Keepers III: Disney in Shadow
Edit
It was mentioned by Security that Ursula was being spied on by Tigger when she was Backstage and Tigger getting in a twist once he was questioned by the Security Gaurd. It is unclear what she was doing Backstage in the first place.
Kingdom Keepers V: Shell Game
Edit
In this book, Ursula was summoned by Finn by mistake because he said her name. Whilst teasing King Triton, she created a gigantic Whirlpool and Tidal Wave to kill Finn and Amanda before disappearing at Typhoon Lagoon.
Appearences
Edit