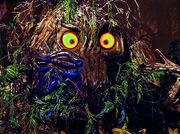 The Trolls are from EPCOT's Maelstrom that had been recruited to attack The Keepers by Overtakers.
Kingdom Keepers III: Disney in Shadow
Edit
The Trolls first appeared in Maelstrom when Maybeck and Philby came to get the sword. A Troll appeared and seemed to cast a spell on the ride. The Trolls later appeared at Wonders of Life with a Viking and his son.They chased Charlene away from Wayne, which was her plan so Finn and Maybeck could rescue Wayne.
Kingdom Keepers IV: Power Play
Edit
The Trolls appeared at Maelstrom when Charlene went to escape from some Crash Test Dummies. Luckilly, Finn and Philby were there to help and they managed to lock all of The Trolls that were there in a cottage in Maelstrom.
Appearences
Edit