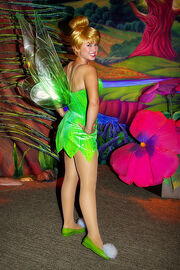 Tinker Bell is a minor character in the series.
Kingdom Keepers II: Disney at Dawn
Edit
Tinker Bell encountered The Keepers after being tied up by Maleficent and witnessed her fly out of the window on the zip wire. Finn and Philby untied her before she told them to jump out of the window with their harnesses on. She too jumped out of the window, with fear that others like Maleficent were following. The boys were scared it was Overtakers or Security- both spelling trouble for them. Tinker Bell went out first in order to catch them on the other side. When they got there, Tinker Bell showed them how to get back into the Park.
Appearences
Edit