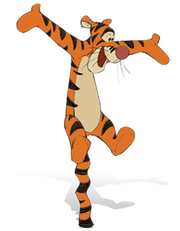 Tigger is a character from Winnie the Pooh.
Kingdom Keepers III: Disney in Shadow
Edit
In this book, it was mentioned by Security that Tigger was seen following Ursula. The security decided to not report him as they thought it could make them loose their job.
Kingdom Keepers VI: Dark Passage
Edit
In this book, Tigger appeared with Ariel, Pluto and Megara in Hollywood Studios to help heal Jess.
Appearences
Edit