Basic Information
Film:
Pirates of the Carribean
Other Names
Vodoo Queen, Calypso
First Appeared:
Kingdom Keepers V: Shell Game
Role in Books:
Overtaker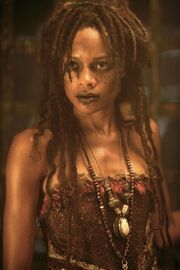 Tia Dalma is a slight villlain in The Pirates of the Carribean Films. She is also an allie of Jack Sparrow and practises Voodoo.
Kingdom Keepers V: Shell Game
Edit
Tia Dalma first appeared on Castaway Cay and was spied on by Charlene telling some Cast Members she wouldn't go on The Disney Dream until 'they' visited her. She was later spied on by Finn talking to Jafar before he was chased away by Jafar's Staff. Finn later returned and witnessed six Cast Members being hypnotized by Tia Dalma before he was again chased away, this time by Maleficent. Later, onboard The Dream, Tia Dalma was guarding The Overtaker Server in the Engine Room. Finn walked through her using All-Clear. Finn threatened her by strangling her if she didn't free his mother. Willa managed to stop him from strangling her as Tia Dalma told him that she had freed Mrs Whitman. He later put his hand through her and came out of All-Clear, thus stabbing her with his arm. She was last seen on the floor clutching her heart, trying to make another incantation.
Kingdom Keepers VI: Dark Passage hello its meh
Edit
Appearences
Edit