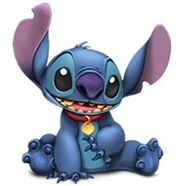 Stitch is an alien that was adopted by a little hawaiian girl named Lilo and they become best friends in the 2002 Disney film Lilo & Stitch. He appears in the attraction Stitch's Great Escape and is a walk-around with Lilo.
Kingdom Keepers III: Disney in Shadow
Edit
In this book, Stitch is an Overtaker. He was seen chasing Finn and Maybeck on Tom Sawyer Island with The Pirates. The two managed to escape but Stitch and The Pirates found The Keepers hiding place in The Indian Encampment. Stitch stood over Finn when he fell over and told him "You don't belong here." Finn replied by telling Stitch he used to like him and his Sister thought he was cute. This made Stitch think, giving Maybeck a chance to rescue Finn by pushing Stitch over.
Kingdom Keepers V: Shell Game
Edit
In this book, Stitch becomes an allie of The Keepers, rescuing Finn from the Rescue Dummies at Typhoon Lagoon by ripping them apart whilst telling Finn to carry on running.
Appearences
Edit