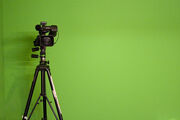 Soundstage B is where the DHIs were created.
Kingdom Keepers I: Disney after Dark
Edit
The Keepers first met here when they were being turned into DHIs. This took seveal weeks to record all of their movements and the speeches against a green screen whilst wearing clothing that was also green and had lots of metal balls on it.
Kingdom Keepers III: Disney in Shadow
Edit
When The Keepers decided to turn Amanda and Jess into DHIs they did a stakeout. They then managed to get in with the help of Wanda whilst Maybeck kep the girls from Nash House busy at Crazy Glaze.
Appearences
Edit