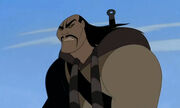 Shan-Yu is the main villain in the film Mulan. He doesn't actually appear much in the Parks except at the Halloween Events.
Kingdom Keepers IV: Power Play
Edit
In the Book, he gets his Huns to take Finn to the Reflections of China part of China to question him about 'The Invisible One's' Magic and who their leader was. He did seem to not be hapy when Finn mentioned Maleficent as The Green One. This might be because they don't get on and Shan-Yu isn't an actual Overtaker. However when Finn says he isn't able to gve Shan-Yu his 'magic', in order for them to be Allies, Shan Yu tries to kill him and Charlene. Luckilly they get away with the help of Finn achieving All Clear, Dillard and Mulan. Shan-Yu doesn't have any magical powers but instead has great fighting skills and is extremely smart. He is also the only person in Mulan who doesn't underestimate women.
Appearences
Edit