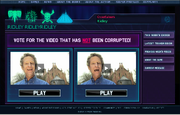 Basic Information
Launched In:
2011
Type:
Single-player, Skill/ Observation
Number of levels
21
Race to Save The Magic is an online game at:
Players must look at two videos of which Ridley Pearson is told to go to another location. One of the videos is a fake that The Overtakers have made to fool the player. Players must vote for the one which is not the fake. After they cast their vote, there is a question. If the player answers it correctly, Ridley get's closer to the next piece of data. Once all of the data has been collected, the player must unscramble the letters and solve it. At first this game was played around the world and people would vote for which video was correct. Whichever video had the most votes was where Ridley went to. This went on for 21 weeks with a new video coming out each week. Now that the game has been completed, players can go through each level in one go without waiting a week.