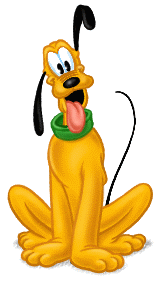 Pluto is a walkaround character at the Disney Parks and Mickey's dog.
Kingdom Keepers IV: Power Play
Edit
When Finn crossed over into Magic Kingdom with Amanda to save her from a spell, Minnie and Pluto helped them. Pluto immediatley grew a liking to Amanda and constantly tried to protect her. He even took on The Big Bad Wolf in order to save her amd Finn. Pluto seemed to have no fear as he had grown up in cartoons where if a piano landed on you, you would survive and have a few stars around his head. He thought instead of the safest way to defeat him, but the funniest way. Later when he was on Tom Sawyer Island, Pluto put himself between the Alligators and Finn and Amanda in order to protect them.
Kingdom Keepers VI: Dark Passage
Edit
Pluto appeared with Ariel, Megara and Tigger to meet Amanda and an injured Jess at Hollywood Studios.
Appearences
Edit