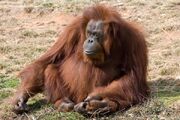 The Oranguans at Animal Kingdom became under the power of Maleficent when she visited the park.
Kingdom Keepers II: Disney at Dawn
Edit
The Orangutans first appeared when they tried to kidnap Finn from Camp Minnie Mickey. They were unable to complete the mission as Maybeck squirted them with water. The apes persued the two teenagers into The Lion King Pavillion but was scared when the trampoline Finn was under squashed one of them and went in front of the face of the others. They later reappeared at Animal Kingdom Lodge and tried to stop Finn and Maybeck rescuing the sleeping Willa and Philby. The two boys wrapped terry clothes around the two apes gaurding them and pushed them into the bathroom. The apes final appearance was at Maharajah Jungle Trek in the tiger yard. They were sent to stop Finn, Amanda and Charlene from rescuing Jez. Several of these turned out to be DHIs and when they dissapeared, the remaining apes ran away.
Appearences
Edit