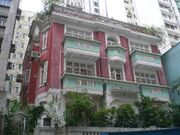 Nash House is a foster home run by the strict, not flattering, Mrs Nash.
Kingdom Keepers III: Disney in Shadow
Edit
In this book, it is revealed that Jess and Amanda no longer live in the Church and instead here. Mrs Nash proves to be strict by scolding the girls about their trip to EPCOT which got their tickets pulled. Later that night, Jess and Amanda were visited by Wanda who asked them for help in finding Wayne. Also here, Jess had another version of the vison she saw at EPCOT. We also find out that Jess and Amanda's roomate, Jeanie Pucket, is Mrs Nash's favorite and a tell-tale.
Kingdom Keepers IV: Power Play
Edit
The House is visited again in this book. Jess has a vision of herself kissing Finn here. Later on, that vision come true for Amanda, leaving her in a coma. Finn helped Jess get her into the house before escaping himself. Jeanie then becomes Jess' allie in protecting Amanda's state a secret from Mrs Nash and Jeanie told Jess about the Lake Buena Vista Cogeneration Facility which Jess tells Philby about.
Kingdom Keepers V: Shell Game
Edit
Finn waited outside here to talk to Jess and Amanda after the discovery of his Mother as an Overtaker. Jess and Amanda saw him and decided to joing him on The Disney Dream. However, when Amanda talked to Finn outside, he blamed her and they broke up without technically going out.
Appearences
Edit