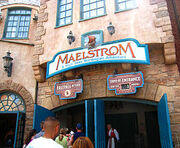 Maelstrom is a Norwegian boat ride at EPCOT about the history of Norway.
Kingdom Keepers III: Disney in Shadow
Edit
In this book, Philby and Maybeck enter the ride to find a sword which they think is the clue Wayne met with the box. After Maybeck succesfully jumped from the boat an got the sword, before getting back into the boat, they started to get attacked. They were sent backwards and attacked by rea life Polar Bears. Philby managed to sab them with the sword but was thrown overthe side by the polar ears and became capotured by gnomes. He eventually managed to get free, just as the boat and Maybeck left that scene and went down the drop at the climax. They were then met by the other Keepers.
Kingdom Keepers IV: Power Play
Edit
In this book, Charlene hid from Crash Test Dummies in here when she was unexpectatedly sent to EPCOT. Finn and Philby soon followed her, curious to why she had Crossed Over as well. The three Kingdom Keepers ended up fighting Trolls before they managed to Cross Back Over.
Appearences
Edit