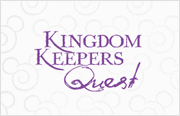 Description
Edit
Fans of The Kingdom Keepers book series can now step into the shoes of The Kingdom Keepers themselves as Ridley Pearson teams up with Disney's Youth Educational Services for the first time with the new Kingdom Keepers Quest! The Kingdom Keepers Quest is held at Walt Disney World for school groups of five or more. It is based on the first Kingdom Keepers book Disney After Dark.
The Kingdom Keepers Quest takes students on a self guided tour through the Magic Kingdom park while testing their math and language art skills on the way. Students get to solve puzzles too as they move through different attractions supporting The Kingdom Keepers efforts to hold back The Overtakers.
You can visit www.disneyyouth.com/kingdom-keepers now to find out more information.