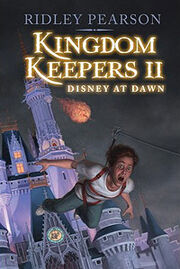 It's supposed to be a happy day at the Magic Kingdom—the return of the teenaged holographic hosts. But things go very wrong when a sudden lightning storm disrupts the celebration, and Amanda's mysterious sister, Jez, disappears. The only clue is the sighting of a wild monkey in the Magic Kingdom during the storm. The mystery deepens as Finn is contacted by Wayne, an old man he hasn't heard from in months. Wayne tells Finn that there's trouble at the Animal Kingdom: the evil Overtakers have gained control of one of the computer servers that will be used to operate Daylight Holographic Imaging there. That means that if any of the holographic hosts fall asleep, they will go into comas—permanently. Filled with action and brimming with the same meticulous detail as The Kingdom Keepers: Disney After Dark, this second book in the series—Disney at Dawn—is the result of hands-on research behind the scenes at Disney's Animal Kingdom Park. Young and older readers alike will get a glimpse into a second Disney kingdom. The wild rides have only just begun; and the clock is ticking. How long can the teens keep themselves awake in their quest to find their friend—and what happens if they fail?
Characters
Edit
Kingdom Keepers
Edit
Overtakers
Edit
Orangutans- Whether a DHI or real, these prove to be deadly.
Birds- Several hundred birds attacked Maybeck to rescue their spy.
Bat- Maleficent's spy. He would do anything to spy on the Keepers.
Dinosaurs- On Dinosaur, the dinosaurs came to life and attacked Maybeck and Willa.
Fantasia Brooms- The Fantasia Brooms are seen watching The Voyage of The Little Mermaid.
Chernabog- Awkened by Maleficent after being held captive as the Yeti at Expedition Everest.
Captain Hook- Mentioned by Ariel's handler that he had been snooping around Ariel's Grotto.
Country Bears Jamboree Bear- Picks up Willa when she falls asleep.
Other Characters
Edit
Wayne- Tells the Keepers their mission at Animal Kingdom.
Tinker Bell- The Cast Member helped Finn and Philby escape Cinderella Castle.
The Dapper Dan- He tried getting Finn and Philby away from the apartment and Maleficent. He then helped them get into Animal Kingdom undetected and gave The Keepers special key cards.
Jez- She goes missing in this book.
Amanda- She helps the Keepers after the discovery that her "sister" has disappeared.