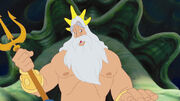 King Triton is Ariel's father and King of The Sea in the 1989 Disney film The Little Mermaid. He appears in several Attractions based on the film. In the film, he is shown as xenophobic towards humans as he views them as "fish-eating barbarians" and "dangerous."
Kingdom Keepers V: Shell Game
Edit
Triton first appeared in Typhoon Lagoon as a massive wave in the Surf Pool. He appeared as himself and told Finn that he and his sea creatures will keep an eye on Finn and The Other Keepers when they were on The Disney Dream. If he ever needed help, Finn would have to say a special code into the water- "Starfish wise, starfish cries." Suddenly, Ursula appeared after finn accidently said her name, she created a Whirl Pool and Tidal Wave to kill Finn whilst she pestered Triton. He managed to get rid of her before trying to rescue Finn and Amanda from the Tidal Wave. He was helped by Amanda's powers but he couldn't keep the wave up so he disappeared. Later on, Triton sent some Flying Fish to protect The Keepers from some Needlefish after Finn said the code. He later sent Crabs to attack Maleficent after Finn said the code again. These crabs almost buried Maleficent in the sand before she vanished, thus leaving The Imagineering Journal with Finn.
Appearances
Edit