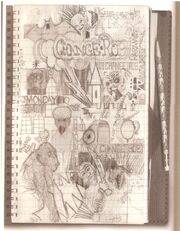 Jess' Journal is what she sketches in after every time of waking up. This is because her dreams are visions of the future as Jess is a Fairlie.
Kingdom Keepers II: Disney at Dawn
Edit
The Keepers used Jez's sketches to track her down in Animal Kingdom. This book marked the first time The Keepers found out Jez could dream the future.
Kingdom Keepers III: Disney in Shadow
Edit
Jess had a vision in EPCOT while she was awake. She later had that vision again and sketched it in her Journal. The sketch was of Wayne at Wonders of Life with a crypotgram behind him. This clue helped them rescue Wayne.
Kingdom Keepers IV: Power Play
Edit
Jess had a dream of herself kissing Finn and immediatley ksetched it in her Journal. This later revealed that it was in fact Amanda who would be put into the curse. This sketch had a background of the Lake Buena Vista Cogeneration Facility which Jess' roomate, Jeanie Pucket, helped identify. She later had a vision of Maleficent in her cell at Animal Kingdom. We found out that Jess enjoyed the experience of drawing her visions as it felt like the pen was moving on it's own and she was just holding it up. She didn't even have to remember the vision as it appeared in her journal. However, if she was interupted, she would come out of her trance.
Kingdom Keepers V: Shell Game
Edit
In this book, Jess dreamed a series of squares and crosses which, when she showed it to Maybeck, allowed The Keepers to know where The Green Army Men where hiding. Jess later had a dream of Charlene being caught by The Evil Queen and Cruella De'Vil which Jess managed to prevent from happening.
Appearences
Edit