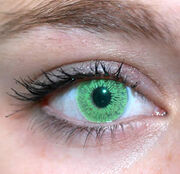 The Green Eyes, also known as OTKs (Overtaker Kids), are teenagers that have had a spell put on them by The Evil Queen to act as Field Agents for The Overtakers. They can be recognized by their green eyes. It was originally thought that they were contacts, until in Shell Game Finn gets a closer look.
Kingdom Keepers IV: Power Play
Edit
The Green Eyes were used by The Overtakers to prevent The Keepers from intervening with their plans. The Keepers firts understood that The Green Eyes meant business when Charlene and Amanda attacked Sally. Sally showed tremendous strength, showing that she was under a spell. Later on, Hugo fought with his old friend Philby so he wouldn't perform a Manual Return. The next time Philby tried to do a Manual Return, he was attacked by Greg Luwoski who was stupid enough to attack Philby's Mom, thus causing Philby to fight with him. Also that night, Hugo had Crossed Over with Cruella De'Vil and The Evil Queen where he turned off Walt Disney World's power whilst being threatened by Charlene with The Fob and Maybeck with a chair.
Kingdom Keepers V: Shell Game
Edit
They were first mentioned at Finn's House when Greg Lusoski and Sally Ringwald tried drugging Finn. However Mrs Whitman intterupted and told Sally to be a spy for The Keepers or else she would ring the police. The next day, two Green Eyes entered Crazy Glaze and tazered Jelly, although it was intended for Maybeck. Mrs. Whitman was also put under the spell, as reveled at Typhoon Lagoon. Several Green Eyes boarded The Disney Dream and stayed in the empty rooms. Greg and Sally crossed over onto Castaway Cay. Sally told Finn all about what she had found out. Greg was at The Cast Members Hut and was telling the plane with Chernabog on it. Maybeck discovered this and fought Greg before locking him in the Control Booth. Meanwhile, two unknown Green Eyes fought Philby in one of the empty rooms before he pushed them overboard. Later on, Greg attacked Maybeck on the ship with some Cast Members and chased him onto The AquaDuck.
Kingdom Keepers VI: Dark Passage
Edit
The Green Eyes (mainly Greg Luwoski and Dixon) again help the Overtakers but Luwoski ends up aware of what he is doing and is scared after he killed a Hyena.
Appearences
Edit
Books
Kingdom Keepers I:
Disney after Dark:
Absent
Kingdom Keepers II:
Disney at Dawn:
Absent
Kingdom Keepers III:
Disney in Shadow:
Absent
Kingdom Keepers IV:
Power Play:
Appears

Sally Ringwald

Edit

Sally was attacked by Charlene and Amanda in order to give away information. She ended up showing a lot of strength and revealing that the breakout was on the upcoming Saturday. She later became the spy for The Kingdom Keepers thanks to Mrs Whitman.

Greg Luowski is the bully at his school and doesn't like Finn. He was scary before he had a spell put on him. He is, however, scared of Amanda's powers. (KK3) He reinforced the spell Finn had from the Evil Queen and ended up getting Amanda stuck asleep. He later went to Philby's House and attacked Phikby's Mother before fighting Philby. He lost the fight due to him being a child and answering to an adult calling his name. He turne his head and was met with Bug Spray in his face thenks to Mrs Philby. He did let slip that the jail breakout was going to happen in the next hour.

Hugo Monticliff

Edit

Philby's friend, Hugo was put under the spell. He pretended he needed to sleep at Philby's House again but instead fought Philby to stop him from Manually Returning Finn, Maybeck and Willa. He later became a DHI and was part of the stalemate at The Lake Buena Vista Cogeneration Facility. He could turn off the power in Walt Disney World but couldn't as Maybeck haad threatened him with a chair. Meanwhile, Charlene had The Fob but couldn't use it as Cruella De'Vil was threatening her. Eventually, Hugo pulled the lever wilst Charlene pressed the button and Maybeck brought down the chair.

Robbie Barry

Edit

Alongside Greg Luwoski, Robbie, entered Crazy Glaze to taser Maybeck but ended up tasering Jelly.

This Cast Member helped Greg to kill the Hyeena and later tried to capture Charlene and Willa backstage but got tied up instead.

Mrs Whitman became a Green Eye at Typhoon Lagoon. It was later revealed that she was under a spell as, when she was hurt, her eyes flickered between blue and green.