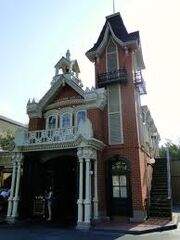 The Firehouse is located on Main Street of Magic Kingdom and is the home to Wayne Kresky. It is also the starting point of the game "The Sorcerors of The Magic Kingdom".
Kingdom Keepers I: Disney after Dark
Edit
In this book, Finn and Philby first visit here to ask Wayne for advise to find Maybeck after The Overtakers had kidnapped him. Wayne had seemed to know the two were coming as he had everything ready as if he was expecting them. Wayne helped by telling them that someplace dark and noisy would be a good place to find him, leading to the two kids realisng Maybeck was in Space Mountain. After The Keepers had solved The Stonecutter's Quill, they all visited Wayne where he told them they had to get the pen from One Man's Dream as themselves. Finn later returned to here and told Wayne about the night's events during Mickey's Not So Scary Halloween Party. Here, Wayne told Finn to tell all of The Keepers to meet at The Ticket and Transportation Centre the next morning to carry out his plan.
Kingdom Keepers II: Disney at Dawn
Edit
In this book, The Keepers searched this place for The Stonecutter's Quill as it was their only way to get Wayne back. They didn't find anything but gone off food.
Appearences
Edit