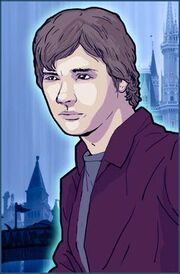 This is the house where Finn and his family live.
Kingdom Keepers I: Disney after Dark
Edit
In this book, Finn is first seen double checking that his "Dream was real or not. He could see the moon which Wayne told him to look at. Finn then knew his dream's were real. Later on, Finn brought Amanda back to his house for Dinner and they went on VMK with the Other Keepers.
Kingdom Keepers II: Disney at Dawn
Edit
In this book, Finn met on his computer with the other Kingdom Keepers on VMK. He then left his house and snuck back in. He then took his sister's DS and his Dad's Blackberry. He then told his mum he was going to the skate park and then Blizzard Beach, turning the clock around and hoping she didn't become fully awake to question him leaving so early.
Kingdom Keepers III: Disney in Shadow
Edit
Finn crossed back over from his adventure at the start of the book, and did the damage control necessary. He later went home and found Philby and Willa with Jess' Cryptogram vision. He and his Mum solved the puzzle with them. The next night, The Keepers met in Finn's Lounge to watch Dumbo as they believed it to be the answer to the Cryptogram. After watchig it, they decided to Cross Over that night. A few days later, Mrs Whitman found Finn's unconcious body in his bed and told the other Keeper's parents.
Kingdom Keepers IV: Power Play
Edit
Finn woke up one night to get a text from Philby about Charlene's secret Crossing Over. Later on, Finn got a text from W telling him to go on a specific page of a website with a book. He then witnessed Wayne as a DHI and went All-Clear . He then encountered the hologram becoming The Evil Queen and he got hit by a spell, unaware of the event. The next night, Maybeck stayed over so they could rescue Willa. After they rescued her, they crossed back over with a rattlesnake. Luckilly Finn managed to get it away.
Kingdom Keepers V: Shell Game
Edit
In this book, Finn crossed Over and found himself being druged by Greg Luwoski and Sally. Mrs Whiman entered the room and managed to get Sally to spy for The Keepers.
Appearences
Edit