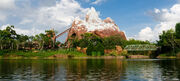 Expedition Everest is a rollercoaster in Animal Kingdom and is the home of the legendary Yeti.
Kingdom Keepers II: Disney at Dawn
Edit
The Keepers visited here after they rescued Jez and she told them about her dream set there. Finn, Amanda and Jez entered the huge superstructure whilst Philby prepared the rollercoaster for Willa, Maybeck and Charlene's rescue. In the rollercoaster, Finn and the fairlies witnessed as Maleficent Turn the giant yeti into Chernabog who swung Finn around by his legs before he briefly Crossed Over. He managed to escape Chernabog's escape before getting Jez and a weakened Amanda onto the rollercoaster train. The Kids landed in it and Jez and Finn were forced to try to keep Amanda in the car whilst holding on with one hand down a spiral drop.
Appearences
Edit