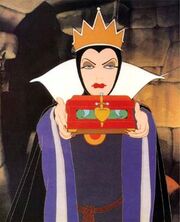 The Evil Queen is the main enemy in Snow White and The Seven Dwarfs and Kingdom Keepers IV: Power Play. She is featured in Snow White's Scary Adventures and Fantasmic!. She possess the power to create any incantation, making it easy to torture and scare any one of The Kingdom Keepers like Willa. Her one weakness is her obseesion with herself. She is vain and her reflection will distract her from her current mission like at the Lake Buena Vista Cogeneration Facility.
Kingdom Keepers IV: Power Play
Edit
The Evil Queen first appears at Disney Quest and persues, Finn, Charlene and Amanda. Later it was revealed that she had put spells on several people in order to get them to work for her. Later, she attacked Willa and tried scaring her into telling the truth. A few days later, she went to the Lake Buena Vista Cogeneration Facility to turn off all of Walt Disney World's power.
Kingdom Keepers V: Shell Game
Edit
The Queen first appeared in The Archives at Hollywood Studios with Cruella De'Vil and Maleficent. She later Boarded the Disney Dream. She later appeared on The Disney Dream with Cruella where they were going to visit Chernabog and talking about their dislike of bats. Jess had dreamed that Charlene was going to captured by the two and so Jess and Amanda prevented this future from happening.
Appearences
Edit