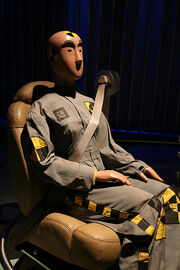 The Dummies are what the Imagineer at Disney use to test different things. The Overtakers managed to get hold of some of these to use as their foot soldiers.
Crash Test Dummies
Edit
The Crash Test Dummies (or CTDs) are normally found in EPCOT as they come from Test Track.
Kingdom Keepers III: Disney in Shadow
Edit
The Crash Test Dummies were first seen patrolling World Showcase on Segways. They stopped Willa in her path when she was on her way to France. She later spotted them stop in Norway before moving on. She was concerned because Maybeck and Philby were over there. The truth was Maybeck had gasped too loud and they spotted the two teens. However they could only identify a light as the two kids never moved. They then carried on. They soon spotted Charlene, Jess and Willa escape back from France. The Dummies couldn't get to the kids in time as Amanda had used her powers to push them off of the segways, breaking their arms and legs off. They CTDs amanged to get their nody parts back on before trying to persue the girls, which they failed to do. Later that night, The Crash Test Dummies tried trapping Finn, Maybeck and Philby from escaping Wonders of Life be trying to push the bridge they had made over and by searching all of the displays.
Kingdom Keepers IV: Power Play
Edit
The CTDs were now used by Security aswell. Some CTDs wer on patrol when The Keepers were at EPCOT to recieve a message from Wayne. Maybeck, Willa and Philby prrovided a distraction so the others could complete the Kim Possible Mission. They later appeared chasing Maybeck in EPCOT whilst Finn was rescuing Willa.
Kingdom Keepers V: Shell Game
Edit
Two CTDs were onboard The Disney Dream and almost succeeded in killing The Keepers with The Pirates.
Appearences
Edit