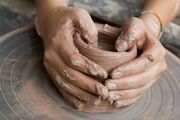 Crazy Glaze is a make-your-own pottery shop run by Jelly, Maybeck's aunt. The two live above the shop.
Kingdom Keepers I: Disney after Dark
Edit
Amanda first found out about where Maybeck lived and, with Finn, went to visit him in order to tell him to cross over with the other Keepers. Later on, Amanda visited Jelly in order to distract her from finding out Finn was sneaking around at the back of the shop. He was doing this to try to find out what had happened to Maybeck after they had crossed over without him. There, Finn realised he was stuck in SBS. Jelly heard Finn and, with a warning from Amanda, got down from the roof he was on. He was then told by Jelly that Maybeck was just stuck asleep and provided him with answers to how he could have gotten trapped.
Kingdom Keepers III: Disney in Shadow
Edit
Maybeck had told everybody he had solved Wayne's clue from the box. A large meeting was held where Maybeck told The Keepers he thought the sides of the cube were layers. He put the box on a light box and it revelaed a letter in our language. After finding out it worked with the other sides, they were left with three letters: PNO This was an abbreviation for the word Open- when the letters were in the right order. The kids then opened the box to reveal a cross with a v at one end. This led to them all deciding to crossing over to EPCOT, with the girls going to France to search for clues about a cross and the boys to Norway to search for clues about a sword.
Kingdom Keepers IV: Power Play
Edit
In this book, The Keepers had a meeting here to discuss how to get Amanda out of the spell and to allow Philby to explain an unexpected thing on the DHI network. Charlene Googled spindles at Disney World for a way to save Amanda after Maybeck note that The Evil Queen said 'The Curse Reversed' and that if Amanda was sleeping beauty from a kiss, then a prick on the finger fro a spindl should help.
Kingdom Keepers V: Shell Game
Edit
In this book, Crazy Glaze was mentioned once. Two Green Eyes entered the shop and threatened Maybeck with a tazer but Jelly got in the way and was electrocuted. She was sent to hospital then thanks to Crazy Glaze's Customers.
Appearences
Edit