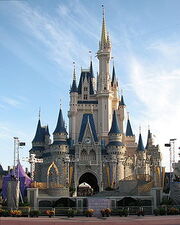 Cinderella Castle is the main feature at Magic Kingdom and Walt Disney World.
Kingdom Keepers I: Disney after Dark
Edit
Cinderella Castle is first visited when Wayne took The Kingdom Keepers up Escher's Keep- a giant maze that was made to be an Alice in Wonderland Attraction but it was never build. Wayne led The Keepers up to an Apartment where he told them the story of The Stonecutter's Quill. It later was visited be Finn, Charlene, Philby and Willa were looking for Maybeck. They couldn't enter Escher's Keep the normal way as Pirates were gaurding the enterance to the Castle. Luckilly they found a stone in one of the walls that was used to open up a secret passage that led to Cinderella's Royal Table. The Pirates then chased The Keepers up Escher's Keep before going down a chute that led to The Castle Moat. When they got to The Apartment, they didn't find Maybeck so they went to search for Maybeck at The Indian Encampent. They managed to get down there quickly by pressing a plate with a silhouette of Mickey Mouse which opened up the floor which lead to another chute that led out of Cinderella Castle.
Kingdom Keepers II: Disney at Dawn
Edit
The Castle was visited again at the start of this book. Finn and Philby climbed up Escher's Keep to investigate a balloon up in an electrical storm. They were chased up by a Dapper Dan who told them to get down before Finn challenged him amd he tried capturing Finn by deliberatley taking the wrong route. However, Finn had Crossed-Over and hovered above the gap before getting to solid ground. Then then entered The Black Hole part of The Maze when they realised the elevator wasn't there. Finn Crosse-Over again and Philby led him towards some Firestairs. They entered the apartment and found Maleficent making an incantation before the lightning manged to free her from her prison. She fled out the window and Philby and Finn unblocked the firedoor and ran before locking in, locking The Dapper Dan in tha had caught back up. They went up more stairs to The Tinkerbell Tower. Here, Tinker Bell was tied up and Malefient was riding the Zip Wire for the fireworks finale. Finn and Philby freed Tinker Bell and they all got on harnesses to escape the people coming up the stairs. They amanaged to escape just in tme by flying on the zip wire.
Appearences
Edit