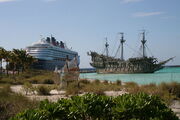 Castaway Cay is a private island in the Bahamas that belong to Disney. It can only be accessed by one of the Disney Cruise Ships.
Appearences
Edit
Books
Kingdom Keepers I:
Disney after Dark:
Absent
Kingdom Keepers II:
Disney at Dawn:
Absent
Kingdom Keepers III:
Disney in Shadow:
Absent
Kingdom Keepers IV:
Power Play:
Absent

Photo Shoot

Edit

The Keepers posed for photos here when they arrived at the island. After, Finn heard some Cast Members talking about one of the kids in the photo was pixelated.

Massage Cabanas

Edit

Tia Dalma lives in one of these. She was first spotted when The Keepers were spying on the lifeboats when she told the Cast Members she wouldn't go on The Dream until "they" visited her. The next day, Finn spyed on Tia Dalma when she was talking to Jafar. He didn't get much as Jafar's Staff came to life and attacked him. He returned later and witnessed Tia Dalma hypnotize six Cast Members. He was interrupted by Maleficent who he led to the beach where he asked for help from King Triton.

Castaway Ray's Stingray Adventure

Edit

Finn met up with Storey here to tell her about the lifeboats and what he found out. She then told him she would help Philby onboard The Ship.

Willa and Philby watched a plane land on this old abandoned Runway and several Cast Members unload a crate annd put it onto a truck which Charlene had managed to get on the spare wheel of. Soon she lost her gip and fell off where she ws met up by the others.

Cast Member Hut

Edit

Maybeck searched here for clues and met a Cast Member called Tim who let him help out. He later returned and found Greg Luwoski in a Control Booth contacting an aeorplane. Maybeck fought with him and ended up locking him into the boooth, a wrong move as Greg could still communicate with the plane. When Maybeck returned later, Greg had gotten out.

Willa and Charlene followed some suspicious Cast Members into here and ended up getting lost until Philby crossed Willa over and told her to use the fireworks as a beacon. Maybeck was also in the jungle with Tim looking at the gas taps and finidng out about how the CO2 wires were probabaly being tampered with in order to have more mosquitos on the island.